Hello readers, Inside this post you will find trending important news in Nigeria today, you will find news that are of concern to
Politics,Entertainment Economics,Locals and more..
TOP NEWS IN NIGERIA TODAY
=>
Tears flow in Enugu as Fulani herdsmen wreak havoc (photos)
From the Enugu state university teaching hospital, Park Lane, to Bishop Shanahan hospital in Nsukka, dejected families struggled to hold their emotions on seeing their loved ones battle to stay alive. Just before one of the victims was wheeled into the theatre for a major operation, his family held hands together for about three minutes, praying fervently for a miracle to happen. What happened some days before had put him in such critical state. Ukpabi Nimbo community, Uzo-Uwani local government area, on Monday, April 25, became a red spot on the world map when rampaging Fulani herdsmen struck, killing scores of villagers, mostly farmers, and destroyed properties worth millions of naira in the process. Sources in the area had put the casualty figure at 40, although the police were yet to give a definite figure. However, Nwodibo Ekechukwu, the Enugu state commissioner of police, became the latest casualty of the incident on Tuesday, May 3, as the federal government ordered his immediate transfer and replacement by Emmanuel Ojukwu. With a joint team of police officers, army and other security agencies stationed at strategic areas in the agrarian community, NAIJ.com's reporter and photo journalist travelled on the back of a motorbike driven by a brave villager to Ukpabi Nimbo community in Enugu.
Ezugwu said:
"The Fulani herdsmen around 6.30am that morning stormed our village and from what I saw they were more than 100. They rushed to our church house where Father (priest) and his wife were. They made series of attempt to get the door open but to no avail and this was when they got very angry and decided to burn down the house. "On noticing there was a Honda car parked just beside the house, they extracted fuel from the car and burnt down Father's house alongside the church bus. They left afterwards but as God will want it, Father ran out with his wife unhurt without the herdsmen noticing them."
READ FULL NEWS
=>
3 reportedly killed as Hausa, Igbos clash in Aba(PICS)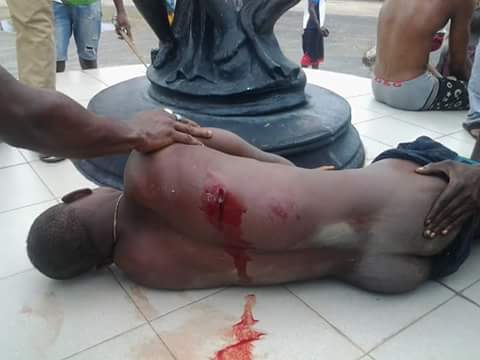 According to Premium Times, riot has broken out in in Ariaria and Ogborhill Aba, Abia state, following the alleged killing of an Igbo trader by a Hausa man. At least three people have been feared dead following the unrest. An eye witness told the media outfit, that the unrest began after the Hausa man allegedly stabbed the Igbo trader to death for urinating near his store. In retaliation, aggrieved Igbo boys around, gathered and lynched the Hausa man to death, while other Hausas have exited the area for safety. According to another witness, the news of the incident spread to other parts of the town and a mob gathered and attacked the Hausa community around the abattoir located at Ogbor Hill area of Aba. "From that point matters degenerated. Soldiers in nearby barrack are shooting and at least one Igbo trader was hit and killed by a bullet," the witness recounted. The aggrieved boys are currently chasing other Hausa people all over the place and beyond as at the time of filing this report. A spokesperson for the Abia state police, Onyeka Ezekiel, told Premium Times over the phone that he had received reports of the incident but he however declined to give further details. "I'm on my way to Aba with the commissioner to see things for ourselves so I cannot tell you the groups involved or if there were casualties until I get there. Call me back in two hours and I will be able to give you more details," he said.
SOURCE
=>
Abuja school tops list of Nigeria's best secondary schools

The West African Examination Council has reportedly released the list of the top 50 secondary schools in Nigeria based on the result of the 2015 May/June examination. The list sees Layola Jesuit College leading the pack while no school in Lagos state appeared in the top five, with only a secondary school in Lekki area of the state appearing in number ten. Check out the list below as obtained from Nigerian Bulletin:
list
In another development, pictures of the Kano students who lost their lives in an accident on their way home from Lagos have surfaced online. The students were among the eight that were confirmed dead in an accident that happened on Iroko Road via Ibadan, the Oyo state capital on Tuesday, May 5. The students' names include; Ahmed Faisal, Kamal Muhammad and Abubakar Abdullahi, from Kano Capital School while Umar Musa, Sani Musa, Ibrahim Sani and Yusuf Danladi came from Unity College, Karaye, in the state.
READ FULL NEWS
=>
President Buhari's ex-lawyer arrested by EFCC

The Economic and Financial Crimes Commission (EFCC) has reportedly arrested Mike Ahamba (SAN), who was President Muhammadu Buhari's former counsel. Sahara Reporters reports that the chairman of Cross River state Peoples Democratic Party (PDP), Ntufam John Okon was nabbed as alongside Senator Chris Anyanwu, in connection with alleged N23.29 billion poll bribery scandal. Share on Facebook Share on Twitter Mike Ahamba is being held by the EFCC. Mike Ahamba is being held by the EFCC. Reports say the trio got N1.2 billion on the directive of Nnamdi Okonkwo, the embattled former managing director of Fidelity Bank. It was further gathered that Anyanwu and Ahamba got N700 million each but Okon was picked up for getting N500 million and might be charged to court. Sahara Reporters stated also that the anti-graft agency also discovered that some of the suspects implicated in the bribery scandal have left Nigeria to live abroad. To get more details, the EFCC has reportedly invited more people and officials of the Independent National Electoral Commission (INEC), who benefited from the bribery scam, for questioning. An impeccable source revealed also that Anyanwu and Ahamba were interrogated at the agency's zonal office in Enugu on Wednesday, but were released on administrative bail which will allow them to go to the agency's office on a scheduled date.
SOURCE
=>
PDP congresses: Saraki shuts Senate for one week-Punch
The Senate President, Bukola Saraki, on Thursday adjourned plenary for one week to enable members of the Peoples Democratic Party, in the chamber, to attend the ongoing party's congresses.
The Senate did not consider any motion or bill as the number of senators present during the day's plenary was not up to the required number to form a quorum.
The absence of senators mostly from the PDP fold compelled the Senate to hurriedly adjourn.
The Senate stipulates that quorum is formed for plenary when one-third (at least 37 senators) of the Senate members are in attendance.
All the senators present on Thursday were not up to 37 and they were mainly members of the All Progressives Congress.
The PDP senators had gone for their party's local government congresses which took place on Wednesday.
The Leader of the Senate, Senator Ali Ndume, after considering the votes and proceedings of Wednesday, moved that plenary be adjourned to the next legislative day and his position was overwhelmingly supported by all the senators in attendance.
Saraki, who presided over the brief plenary, thereafter adjourned plenary to Thursday, May 12.
READ FULL NEWS
=>
Troops kill 31 cattle rustlers, B'Haram members-Punch
The troops of the Nigerian Army have killed 18 cattle rustlers with several others injured in an operation in Zamfara State.
Also, the military on Thursday said that 13 members of the Boko Haram insurgents were killed in the ongoing clampdown on Sambisa Forest, the sect's hideout in Borno State.
The acting Director, Army Public Relations, Col. Sani Usman, said in a statement on Thursday that the troops of 223 Battalion, 1 Brigade of the Nigerian Army, who were on patrol, carried out the attack when they were alerted to the presence of the bandits in the area.
He said that the troops averted what would have been an attack on Dansadau community by the cattle rustlers and armed bandits.
He said that the troops laid ambush for the bandits, who stormed the area en masse on motorcycles – on their way to wreak havoc at Ruwan Tofa and Babban Doka villages of the Dansadau district of Mari Local Government Area.
"The patrol team laid an ambush for the suspected cattle rustlers and armed bandits who came en masse on motorcycles fully armed.
"It was gathered that they were on the way to Ruwan Tofa and Babban Doka villages in the Dansadau district of Maru Local Government Area, Zamfara State, to wreak havoc on the innocent people of those communities," he said.
According to him, the troops recovered 11 AK-47 rifles, one G3 rifle, one locally-made pistol, 11 AK-47 magazines, a magazine of a G3 rifle and 161 rounds of 7.62mm (special) ammunition in addition to destroying the bandits' camp at Babban Doka area.
READ FULL NEWS
=>
Protest in Aba as soldiers allegedly kill two butchers

What would have been a major ethnic clash was averted yesterday in Aba, Abia State following protests over alleged killings of two Igbo butchers at the Waterside abattoir by soldiers. Vanguard gathered that penultimate week, an unnamed soldier in mufti, reportedly went to the abattoir to smoke Indian hemp after which he refused to pay, claiming he was a soldier. The situation led to a fracas with some boys in the area, who insisted he must pay, without knowing that the man was a soldier. The said soldier reportedly came to the abattoir yesterday with four of his colleagues in a Hilux patrol van and started shooting indiscriminately. There was commotion in the area as butchers and those who came to buy meat scampered to safety and when the shooting died down, a pig rearer, identified as Ojukwu, was found dead. It was gathered that when some of the butchers, who saw what happened, sought to know from the soldiers what led to their action, that the trigger happy soldiers shot and killed another butcher. The soldiers reportedly beat four others to pulp and forced them into their van and drove off to an unknown destination.
READ FULL NEWS
=>
Power supply crisis fear as militants bomb oil facility
Fears that power supply may get worse were rife yesterday after Wednesday's bombing of a Chevron Nigeria Limited (CNL) major valve platform around Escravos in Warri SouthWest Local Government Area of Delta State.
A militant group, the Niger Delta Avengers (NDA), has claimed responsibility for the sabotage of the crude oil and gas production facility. The attack is coming when work is being rounded off on the bombed Forcados platform.
Some of Nigeria's power plants run on gas.
The group has said it carried out an attack on a Shell oil pipeline in February which shut down the 250,000 barrel-a-day Forcados export terminal.
In a statement, Chevron Nigeria Limited, operator of a joint venture with the Nigerian National Petroleum Corporation (NNPC), said an attack took place at about 11.15 pm (2215 GMT) on Wednesday.
"Okan offshore facility in the Western Niger Delta region was breached by unknown persons," said Chevron in the statement. "The facility is currently shut-in and we are assessing the situation, and have deployed resources to respond to a resulting spill."
There were no immediate details of any casualties. The company could not be reached for further comments.
On Wednesday's bombing, a source said: "Militants in the Niger Delta region have regrouped.
"Security personnel in the region are the main targets because these militants have cravings for their arms. They kill security agents and collect their arms and ammunition. They are now stockpiling them, possibly for major onslaughts."
"The recent attack on naval ratings was the most brutal. Something must be done fast because the region is fast degenerating into a war zone," he said.
In a statement by its spokesman,'Col'. Madoch Agbinibo, NDA threatened that the Federal Government's recent deployment of soldiers in the oil-rich region would not deter it from crippling the nation's economy.
"The high command of the Niger Delta Avengers wants to use this medium to thank strike team 6 for successfully blowing up of the Chevron Valve Platform. And we are ready to protect the Niger Delta people.
READ FULL NEWS
=>
Troops Kill 18 Boko Haram Terrorists As They Avert Bandit Attack On Dansadau
See statement by the Nigerian Army below;
Troops of 223 Battalion, 1 Brigade Nigerian Army have averted another attack on Dansadau town by suspected cattle rustlers and armed bandits yesterday Wednesday 4th May 2016. The troops who were on patrol were alerted by well meaning individuals on seeing the bandits.
The patrol team laid an ambush for the suspected cattle rustlers and armed bandits who came in large numbers on motorcycles fully armed. It was gathered that they were enroute Ruwan Tofa and Babban Doka Villages in Dansadau District of Maru Local Government Area, Zamfara State to wreck havoc on the hapless innocents of those communities.
The troops killed 18 and wounded several armed bandits. They also recovered 11 AK-47 rifles, 1 G3 rifles, 1 locally made pistol, 11 magazines of AK-47 rifle, a magazine of G3 rifle and 161 rounds of 7.62mm (Special) ammunitions. The troops went further and destroyed the bandits' camp at Babban Doka general area.
They are also combing the area for the remnants of the bandits and all those that escaped with gunshot wounds in the general area. We would like to appeal to the public to continue to assist with information on cattle rustlers, armed bandits and other criminal elements in their areas.
Thank you for your usual cooperation.
SOURCE
=>
Ukraine to invest $1bn into Ajaokuta steel company
The Ukrainian Ambassador to Nigeria Mr Valeriy Aleksandruk has said that his country is ready to invest one billion dollars into Ajaokuta Steel Company in order to revive the plant.
This is according to a statement by Mr Alex Okoh, Head, Public Communications, Bureau of Public Enterprises (BPE) in Abuja on Thursday.
It said that the ambassador made the disclosure when he paid a courtesy call on the Acting Director General of the BPE, Mr Vincent Akpotaire.
It also stated that Aleksandruk said that the Ukrainian company that built the plant -Tiajpromexport (TPE) – had presented a proposal to the Federal Government to that effect.
He said that the steel company has a lot of potentials which his country wanted to take advantage of and that already, meetings were on with relevant stakeholders in Nigeria for the realisation of the planned takeover of the plant.
Aleksandruk emphasised that Nigeria has a very good relationship with Ukraine especially in areas of trade and investments adding that there was a big Nigerian community in his country.
He, however, added that Ukraine was ready to "open a new page in its relationship with Nigeria" and pledged to assist the Bureau in its training needs to become a foremost privatisation agency in Africa.
READ FULL NEWS
=>
Buhari set to sign 2016 budget today
President Muhammadu Buhari is set to sign this year's budget today after receiving the clean copy of the document yesterday, it was learnt.
The 2016 Appropriation Bill was presented to the President last month after passage by the National Assembly, but the President declined to assent it after discovering that many key projects had been removed as some constituency projects were added by the lawmakers.
The N6.08 trillion proposal was presented by the President to the joint sitting of the National Assembly on December 22, last year.
A source, who spoke on condition of anonymity yesterday, said all was ready for the President to assent the bill today.
He said: "All things being equal, the President will today assent the 2016 Appropriation Bill."
"The two committees have finished their work and a clean copy is now with the Presidency." Earlier yesterday, the chairman of the committee set up to reconcile the grey areas in the document, Deputy House Speaker Yussuff Lasun, presented the clean copy to President Buhari's National Assembly Advisers – Ita Enang (Senate) and Sumaila Kawu (House of Representatives).
The presentation was conducted behind closed doors.
READ FULL NEWS
=>
Troops ambush Boko Haram fighters, kill many-Naij.com
Spokesman for the army, Colonel Sani Kukasheka Usman said last night, the troops laid ambush against some elements of the Boko Haram at two of their crossing points at Komala and Musafanari general area coming from Sambisa forest. According to Col Usman, the ambush party decisively dealt with some terrorists on motorcycles in which a number of terrorists were killed and a few others flee with gunshot wounds. The troops recovered one AK45 rifle with registration number 56-2614519, in addition to a magazine containing 9 rounds of 7.62mm (Special), 6 motorcycles, 2 bags of salt and other assorted food items as well as various Improvised Explosive Making Devices (IEDs). The army public relations officer said the recovered items clearly shows that that the terrorists were out for a nefarious mission which was aborted by the timely ambushes. Consequent upon this, he informed that the army wish to implore members of the public to kindly oblige with timely information on the Boko Haram terrorists to enable the military and indeed the security operatives to deal with them decisively. Col Usman stressed that the troops in various axis of the theatre are poised for the clearance of the remnants of the Boko Haram terrorists in our country.
SOURCE
ENTERTAINMENT
=>
Here's what Peter Okoye has to say about his Involvement in the Tiwa Savage & Tee Billz Drama
I pray for no break up
''This is where I belong and this is where I stand.......you do music in the studio, not in social media, you have family issues, you discuss that in close doors, not in social media ..... Family is family, blood is blood .... If you don't do family business, then who am I to you?''
Peter Okoye was said to be one of the people who saved 323 Entertainment CEO Tee Billz from jumping off the Lekki-Ikoyi link bridge a couple of days ago.
In his first interview since the drama occurred, Peter shares his thoughts and explains why the issue should not be taken lightly. He also added his thoughts on how celebrity marriages can last longer.
Watch below.
SOURCE
These Updates Are Brought To You By Apata Bayode Follow Him On Twitter Here
SO WHAT DO YOU ACTUALLY THINK ABOUT THIS POST? WHY DON'T YOU SCROLL DOWN BELOW AND LEAVE A COMMENT FOR PEOPLE TO SEE...
=> How ( FREE ) secret Fruits Increased My Small Johnson size and Banished my Premature Cuming in just 7days..Click HERE For Details.
---
DO YOU LIKE THIS ARTICLE? THEN SHARE IT WITH YOUR PALS ON TWITTER AND FACEBOOK! AND KEEP VISITING WWW.TAKEMETONAIJA.COM DAILY FOR MORE CONTENTS LIKE THIS

testin