Senate President Dr. Bukola Saraki led a delegation that was recently in Berlin, Germany to source for ways to boost Nigeria's power supply.
While in Germany, the Senate President inspected German Village, Feldheim, where residents combined efforts and local resources to produce clean and renewable energy. The energy self-sufficient village is located 70 kilometres outside Berlin.
After the inspection, Saraki said that the National Assembly will amend the laws on power generation, transmission and distribution to solve Nigeria's energy crisis.
A statement by his Special Adviser (Media and Publicity), Yusuph Olaniyonu, said that the achievement of the Germans was possible in Nigeria if only the leadership and the operators could be serious and demonstrate the will power. He said:
"Yesterday, as part of my official visit to Berlin, Germany. I visited a German Village, Feldheim, where residents combine efforts and local resources to produce clean and renewable energy.
"Power supply remains top in the agenda of the Senate as it is a key instrument for eradicating poverty and unleashing the potentials of the people. That is why we had a workshop on power sector last month. It is also why we are here to see the experiment and success of the people of Feldheim and see what our people can learn from it.
"We have to amend the laws to allow communities to generate energy that is more than 10 megawatts and even the laws on power transmission and distribution has to be amended to allow more creativity and involvement from the private sector."
While briefing the delegation, Project Manager of the facility, Werner Frohwitter said the project was one in which "citizens take their energy supply into their own hands" as they contributed money to build biogas plants which use slurry and manure from their pigs and cows and wind farms.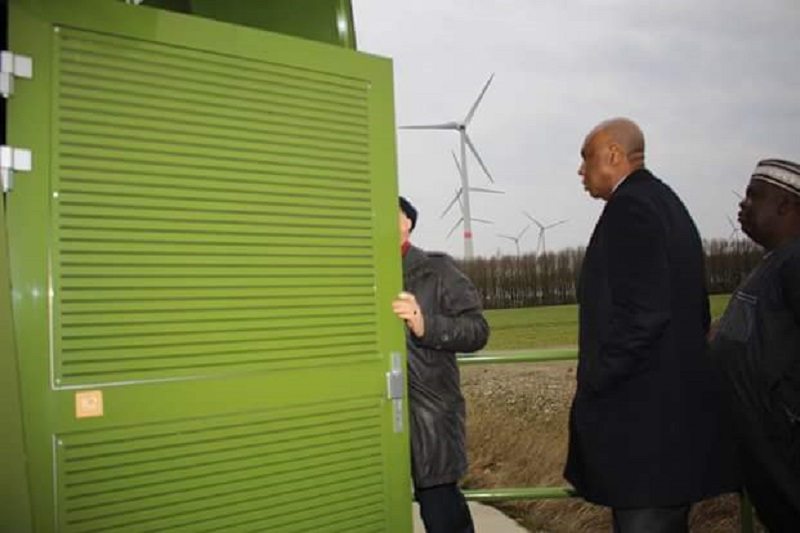 Frohwitter said that though the village has a population of 140 people, it hosts about 4,000 visitors yearly comprising students, politicians, researchers, scholars and journalists who want to learn about how the people's efforts led to the generation of 10mw of electricity, from which they sell the excess to the national power grid.
The project manager said Feldheim is now a community which produces "safe, local, economic and ecological supply of heat and electricity organized by and under the responsibility of the citizens independent from the grids of conventional power utility companies".
On their return to Berlin on Wednesday night, the Senate delegation also had a discussion with Mr. Thomas Silberhorn, the Parliamentary State Secretary to the Federal Minister for Economic Co-operation and Development on how to foster economic exchange between the European giant and Nigeria.
Just last month, Minister of Works, Power, and Housing, Babatunde Fashola had said that Nigeria won't be able to have a regular and sustainable electricity power supply except through the mixture of conventional and renewable energies.
Speaking at the launch of MTN/Lumos mobile solar electricity, Fashola said the country, which still relies heavily on gas and hydro as sources of its energy supply, will only achieve 30% renewable energy generation by 2030.
He said the government had embarked on a programme to supplement the conventional sources of energy with renewable, adding that it is only the combination that can get the country stable and sustainable power supply.
SO WHAT DO YOU ACTUALLY THINK ABOUT THIS POST? WHY DON'T YOU SCROLL DOWN BELOW AND LEAVE A COMMENT FOR PEOPLE TO SEE...
---
DO YOU LIKE THIS ARTICLE? THEN SHARE IT WITH YOUR PALS ON TWITTER AND FACEBOOK! AND KEEP VISITING WWW.TAKEMETONAIJA.COM DAILY FOR MORE CONTENTS LIKE THIS

testin