BIRTH NAME: Uchenna Jennifer Eze
DATE OF BIRTH: Blogger, writer, social media expert, entrepreneur
OCCUPATION: July 26, 1984
MARITAL STATUS: Married
NET WORTH: 2.6 million dollars
INTRODUCTION
Uche Pedro is a Nigerian blogger, writer, social media expert and entrepreneur. She is the founder of BellaNaija, an online entertainment, fashion and lifestyle magazine. In 2014, she was named in Forbes list of "30 Most Promising Young Entrepreneurs in Africa".
EARLY LIFE AND BACKGROUND
Uche was born and raised in Nigeria where she also finished her primary and secondary school education. She later moved to Canada where she graduated with a bachelor's degree in Business Administration from Richard Ivey School of Business, University of Western Ontario, Canada.
BellaNaija was founded in July 2006 by Uche and began as a hobby.
The idea for establishing BellaNaija came whilst she was studying at
university in Canada. She had two weeks holiday and soon got bored.
She had always loved Nigeria and Africa, and each time she returned to
the country for a holiday or on visits from school or work, she saw how
everything in Nigeria was growing – the fashion was more vibrant, the
entertainment was more vibrant, more young people were getting involved
in politics, business, etc and it was so encouraging. So she was
inspired to start something that represented this exciting young vibe
in the country – she began to blog about fashion and celebrity in
Nigeria and BellaNaija was born. She started by scanning magazine
articles, pictures and interviews of Nigerian fashion personalities and
continued in a low profile way until her BellaNaija portal began to have
over 1 million hits every month, at which time she unveiled the
personality behind the portal to the media.
CAREER AND LIFE
Since that time, it has grown in
leaps and bounds and today the BellaNaija portal has millions of
unique visitors. When the portal was initially launched, a lot of our
visitors came from around the world, from the diaspora, but now Nigeria
is the number one country on the BellaNaija visitor list. It just shows
that today, more people have internet access, and people are interested
in what is going on around them. The site has visitors from around the
African continent, from South Africa, Ghana and other countries.
On
achieving commercial success with BellaNaija, Uche says: "In terms of
the commercialization of the site, in the early days of BellaNaija, it
was hard work to generate revenues but we managed to break even and saw
the portal as a first step to building something much larger down the
line."
BellaNaija is also an
initiative with a social conscience and the site is used as a platform
for social activism and commentary on various political issues and
campaigns, such as the 'Enough is Enough' campaign which aimed to lobby
the government on the unreliable power situation and its high costs in
Nigeria.
Today, the BellaNaija portal is one of the top 100 sites
in Nigeria and continues to grow its visitor base, attracting fashion
savvy audiences who want to spend time on a portal that understands
fashion, trends, music and celebrity red carpet action. It has a young
team of bloggers and reporters who create over 90% of the content
uploaded to the site. BellaNaija is now a viable commercial social
media brand, a household name and a new media force to be reckoned with
in Nigeria.
In 2010 she won Outstanding Contribution to Fashion Communication
Award and "The Future Awards Africa" for Young Media Entrepreneur of the
Year in 2013 and many other awards. Uche Pedro was interviewed by CNN
reporter, Isha Sesay on CNN i-List on September 28, 2010 on account of
her enormous achievements. She also featured on the Oprah Winfrey show
"Beauty Around the World", in February 2010 alongside Jessica simpson
and Lisa Ling.
Uche is married to Bode Pedro, the founder/CEO of
Veda Technology and the son of the former deputy Governor of Lagos
State. They got married on Saturday June 16, 2012 in Lagos, Nigeria.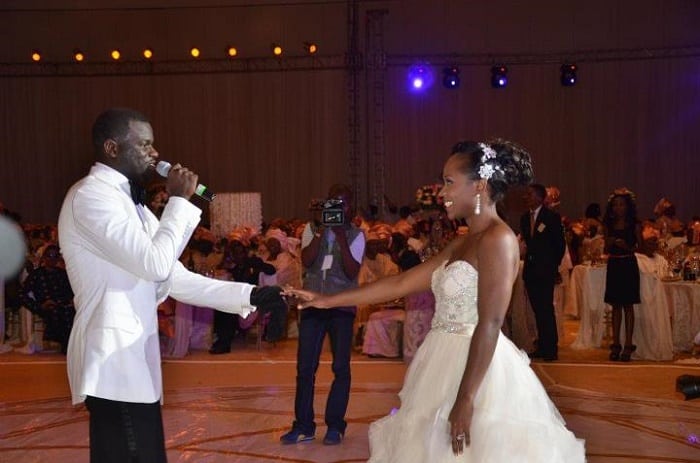 Uche and Bode's wedding

AWARDS AND ENDORSEMENTS
Year

Award ceremony
Prize
Result
2010
The Future Awards
Young Person of the Year
Nominated
The Best Use of Technology
Nominated
African Fashion Week
Outstanding Contribution to Fashion Communication Award
Won
2013
The Future Awards
Young Media Entrepreneur of the Year
Won
2015
Creative Industries Awards
Creative Industries Awards for Bloggers
Won
2016
Kids' Choice Awards
Best African Blogger
Won
SOURCES: lionessesofafrica.com,wikipedia.org,www.takemetonaija.com