BIRTH NAME:
Emmanuel M. P. Edeh
DATE OF BIRTH: 20 May 1947
OCCUPATION: Priest, Author, Educationist, Philanthropist
MARITAL STATUS:
Not Married
INTRODUCTION
Father Edeh is a popular Nigerian Catholic priest of the Holy Ghost congregation
.
He is the founder of the Pilgrimage Centre of Eucharistic Adoration also known as the Pilgrimage Centre for Peace and Reconciliation Elele, Rivers State, Nigeria.
EARLY LIFE AND BACKGROUND
Fr. Edeh was born as 'Ogbodo Edeh' in Akpugo, Enugu State Nigeria, to a family of an African traditionalist Mr Joseph and Elizabeth Edeh Ani Onovo. The name Emmanuel was added to him at the age of nine, when he was baptized a Christian in April 1956 at the Holy Angels' Catholic Mission, Ndiagu Obuno, Akpugo by Rev. Fr. Brennan. He attended Holy Angels Catholic School in Akpugo, Enugu State, where he got his primary school education before gaining admission into the Holy Ghost Juniorate, Ihiala in 1963 and finished his secondary education in 1967, a period that was coincidentally the beginning of the Nigerian-Biafran war. In 1968 Father Edeh enrolled at the Holy Ghost Scholasticate, Awo-Omamma where he successfully completed his philosophy studies in 1970. In 1972 he was admitted into the Bigard Memorial Seminary Enugu where he completed his theology studies and was ordained into priesthood on the 19th of April 1976. The year 1978 saw Father Edeh travel to the United States of America to further his studies. He studied at DePaul University in Chicago Illinois where he obtained Bachelors, Masters and Doctorate of Arts degrees in Philosophy specializing in Metaphysics.
Father Edeh had his first personal experience of practical charity work in 1968 when during the early days of the Biafran war, he had to work at three Caritas feeding centers in and around Awo-Omamma.(Caritas is a Catholic non-governmental organization that played a major role in providing Food, medicine and clothing to Biafra children during the Biafra war).[4][5][6] This experience as he recounted provoked in him a desire to serve humanity through practical and effective charity. Thus, after the war he pursued and gained admission into the theology department of Bigard Memorial Seminary, Enugu, Nigeria for his theological studies in 1972.
As a young seminarian in Bigard, Emmanuel joined a number of religious, social and academic societies among which were the Legion of Mary and Le Cercle Francais. In Le Cercele Francais, he not only contributed articles to the society's journal Bigard D'Aujour D'hui, but he was also a very active member of Committee de Redaction as one of the dactylographes in 1974. He also learnt to speak French and use the typewriter as a seminarian.
CAREER AND LIFE
Coming out from the seminary training in 1976 he obtained bachelor's degree in Divinity (B.D.) from the Bigard Memorial Seminary an affiliate of Pontifical Urban University, Rome. Consequently, Emmanuel Ogbodo Edeh was ordained a Catholic Priest (first priest to be ordained in his home town ) of the Holy Ghost Congregation Nigeria Province on the 19th day of April 1976 by the then Catholic Bishop of Enugu Diocese, Most Rev. Dr. Godfrey Mary Paul Okoye C.S.Sp., in his hometown, Akpugo.
From the first day of his ordination, he was filled with the motivation and passion for what he calls his mission of practical and effective charity, that is, special (holistic) care for the sick and suffering, the physically challenged, the abjectly poor and the abandoned; and providing proper education for the troubled youths of the modern society. He finds happiness in feeding and caring for the little ones from abjectly poor families, as he patiently listens to and sympathizes with, and consoles the suffering of their parents as they narrate their stories to him.
After ordination Fr. Emmanuel Edeh's was placed on a primary assignment as a young missionary besides his personal pursuit of implementing his mission of practical and effective charity, comprised teaching at the Holy Ghost Juniorate Seminary Ihiala, his Alma Mater, acting as the provincial secretary of the Holy Ghost Congregation and serving as a curate to Rev. Fr. Tobias Enweremadu, C.S.Sp., the then parish priest of St. Martin's Parish, Ihiala (1976–78).
Studies in the USA
His desire to further his education took him to the US in 1978 on scholarship and by the State University of Chicago, however, he declined the offer and transferred to De Paul University Chicago which was more in line with his yearnings. At De Paul University, he got his Bachelor of Arts (BA), Master of Arts (MA), and PhD all in Philosophy, majoring in Metaphysics. He also obtained a professional certificate in Clinical Pastoral Education (CPE), from Loyola University Medical Center cum Mary Ann Joy Hospital May-wood, Illinois, USA.
Return to Nigeria
Father Edeh returned to Nigeria in February 1984. However the aftermath of Nigerian Civil war on Nigerians was still vivid. He was stunned by the gloom, doom and abject condition of the country resulting from the devastation of the Nigerian Civil war whereby millions of people were displaced and broken, families and kindred were in disarray; quarreling against each other. People's homes, houses and lands were forcefully snatched from their rightful owners. Court cases were multiplying in hundreds and thousands. People went to court seeking for justice to prevail in their cases. Even courts' positions on certain matters were not the final resolution of the problem, as individuals often took the law into their own hands. Regrettably, the government (local, state and federal) were not people oriented and could therefore not proffer concrete solution to the people's malaise of cynicism, desperation and despair. It was in this decadent state of the nation that Father Edeh began his pastoral ministry.
He was posted to the Holy Ghost Novitiate, Awo-Omamma, Orlu Diocese, to join the Novitiate staff for some months before finally joining the Philosophy staff at Isienu in September, 1984. At Awo-Omamma, he took care of the spiritual and material needs of the people that came to him through works of charity with the support of his then provincial Superior, Very Rev. Fr. James Okoye C.S.Sp. He was later posted to Our Lady of Lourdes parish Elele in Rivers State, the same year to begin his pastoral ministry as the parish priest. Elele is in the Niger Delta region, an oil-rich region known for its restiveness due to decades of exploitation and neglect by the federal government. Therefore, on assuming his role as the parish priest, Father Edeh set up different platforms to carry out his mission of practical charity, like the Poor Peoples Ward where the abjectly poor are kept, fed on daily basis and taken care of irrespective of age, gender, religion and ethnicity. Our Saviour Motherless Babies' Home where abandoned children and Motherless Babies are nurtured and given special care. Our Saviour Rehabilitation Centre for skills acquisition and creation of employment opportunities, Centre for the Rehabilitation and provision of specialized care to those with mental sicknesses that have been uncared for and left to degenerate. In his efforts to provide free medical care for the poor and the abandoned in his Charity model, Father Edeh established different health and social welfare institutions from Teaching hospital, Maternity Hospitals, Specialist Diagnostic Laboratory, Medical Clinic, Rehabilitation Centre and a Motherless Babies Home, that have provided free services for the past twenty-four years.
Influence in education
He took up a lecturing position at the Department of Philosophy, OSISATECH Polytechnic, Enugu then a campus of Enugu State University of Science and Technology and led the movement for the provision of qualitative and affordable education to all regardless of their gender, ethnicity and religion. This quest led to the establishment of several academic institutions ranging from Nursery schools, Primary schools, Secondary schools and Universities that are situated in different parts of the country. In these institutions people from all walks of life and of different race and creeds are admitted and allowed inter-religious freedom in the campus. Through his institutions, Father Edeh has given and continues to give hundreds of scholarships to the poor and the disadvantaged especially those with physical disability receive free tuition and accommodation. Gender equality is also an area where Father Edeh has made tremendous strides. In a male dominated society like Nigeria, he has been the biggest promoter of women education, through the establishment of dedicated institutions solely for the education of women, and also instituting a gender equality employment policy at all the institutions he has established.
Centre for Peace, Justice and Reconciliation
Father Edeh established a gigantic National Pilgrimage Centre at Elele in Rivers State. Here millions of people from across the globe visit in their quest to find peace in their hearts, lives and families. Within this Pilgrimage Centre, Father Edeh also established a Centre for Peace, Justice and Reconciliation. This Centre is charged with the responsibility of reconciling people with one another as means of achieving world peace. It is documented that more than 14 million cases have been amicably resolved at this peace Centre since its inception for individuals, families, kindred, villages, communities, and towns regardless of their ethnicity, gender, religion or political adherence.

Charitable works
Father Edeh also established the Madonna International Charity Peace Award (MICPA). This Charity Peace Award has been a prime supporter of financial relief efforts to natural disaster stricken areas like the earthquake devastation in Haiti and the tsunami crisis in Asia. The Award has also provided relief and support to victims of religious extremism in Nigeria. The Award has also gone to some persons and organizations that have been taking care of orphans, Motherless Babies, and displaced people in places like Haiti, Cambodia, India, Philippines, England, USA and Cameroon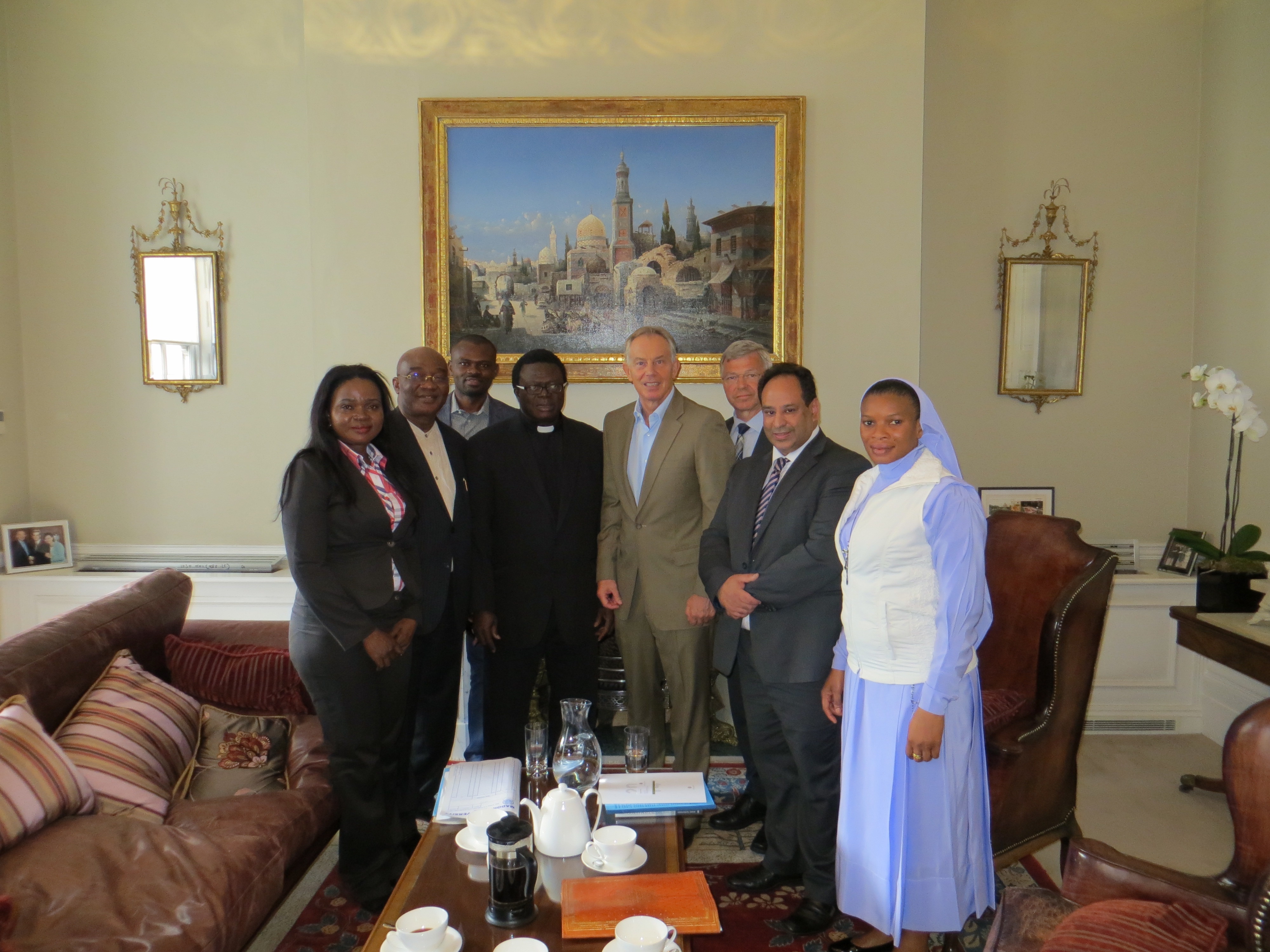 Edeh and World leaders
SOURCES: wikipedia.org,takemetonaija.com
=>Give Me Life: Checkout This Dope Pon Pon Song Trending At The Moment, Song OF The Year 2018!
SO WHAT DO YOU ACTUALLY THINK ABOUT THIS POST? WHY DON'T YOU SCROLL DOWN BELOW AND LEAVE A COMMENT FOR PEOPLE TO SEE...
=> See How I Can Now Satisfy My Woman Any Time In Actions. Click HERE For Details.
j
---
DO YOU LIKE THIS ARTICLE? THEN SHARE IT WITH YOUR PALS ON TWITTER AND FACEBOOK! AND KEEP VISITING WWW.TAKEMETONAIJA.COM DAILY FOR MORE CONTENTS LIKE THIS

testin