NAME: Bonny Island.
LOCATION: Rivers State.
COORDINATES: 4.4492° N, 7.2400° E
KNOWN TO BE: A Mini City.
ABOUT
Bonny Island
is situated at the southern edge of
Rivers State
in the
Niger Delta
of
Nigeria
near
Port Harcourt
. In the early 1990s the Federal Government of Nigeria, in collaboration with 3 international partners, Shell Gas BV., CLEAG Limited [ELF] and AGIP International BV. started the multi-billion dollar project Nigeria Liquefied Natural Gas Limited (
Nigeria LNG
).
Due to its strategic position, the island hosts various oil companies including
Royal Dutch Shell
,
Mobil
,
Chevron
,
Agip
, and
Elf
.
Port Harcourt
is the closest city to Bonny Island. Ferries are the main form of transport to and from the
island
.
Public secondary schools on the island includes:
Bonny National Grammar School
, Government Girls Secondary School, Community Secondary School, Lucille Education Center, Kingdom Heritage with so many more very educative schools on the Island.
It's been said the city is the only city in Nigeria which has a 24hour electricity for quite a longtime and still continuing.
HISTORY
Somewhere at the edge of the Atlantic Ocean facing the Bight of Bonny sits the island of Bonny. This serene Niger Delta community has several historical and economic symbolisms for the Nigerian nation. It was the melting point of economic activities right from the 16th century. It serves as Christianity's first port of call in West Africa. It is also home to so many illustrious sons and daughters of Nigeria. This significant constituent of the larger Ijaw ethnic nationality has her local dialect, Ibani spoken across her various communities. With a thriving traditional system and robust cultural heritage it stands out as one of the foremost local communities in Nigeria. Her traditional institution is headed by Edward William-Dappa Pepple who serves as natural ruler and Amanyanabo-in-Council and ably assisted by a Council of Chiefs headed by Reginald Abbey-Hart who is also chief and head of Captain Hart major house. Her political leadership currently rests on the shoulders of Nelson Ben Irimagha who bears the traditional title of Amasenibo.
The community is subdivided into two main segments – the mainland and the hinterland. The mainland is comprised of the Township, Sandfield, Iwoama, Orosikiri, Aganya, Ayambo, Akiama, Workers Camp, Finima and some outlying fishing settlements lying along the Bonny River's coastline. The hinterland includes the villages that serve as home to indigenes of Bonny kingdom.
After the migration from Orupiri to Okoloama (Bonny town), the eldest of the group, Opuamakuba became the leader. When Opuamakuba became very old, the elders and priests persuaded him to hand over to Alagbariye who was then the high priest. When the Ibani left Orupiri, they brought with them to Okoloama, only a son of their national god, Kala Ikuba (Ikuba Junior). Opu-Ikuba.(Ikuba Senior) was left behind at Orupiri, Alagbariye served as high priest of Ikuba and succeeded Opuamakuba as ruler. Since there was no fresh water at Okoloama, the elders consulted oracles.
It was revealed by the oracles that water could be obtained only through the sacrifice of the king's child. Accordingly, Alagbariye sacrificed his daughter, Osunju, to the fresh water deities and so secured good drinking water for the people.
Religion
The Ibani people are Christians. Majority of the inhabitants of the area converted to Christianity in the early 1800's. The Christian faith in Bonny was introduced by King William Dappa Pepple, who while in England elected to become a Christian King so that God will grant him power and wisdom to rule his people. King William Dappa Pepple was Baptised by Reverend G. H. McGill and later confirmed by Dr. Tait, the Bishop of London. At the behest of king William Dappa Pepple the Church Missionary Society in London sent Bishop Samuel Ajayi Crowther, the first Black African Bishop, to Bonny in 1864 to establish the Gospel of our lord Jesus Christ in Bonny.
From Bonny Christianity spread to the neighboring communities of Tuwon and Nembe in 1868, Kalabari in 1878, Okrika in 1878, Andoni ,Ogoni, Ikwerre and the hinterlands of Eastern Nigeria. On January 24, 1889, Bonny Christians presented their beautiful church to Bishop Samuel Ajayi Crowther as his Cathedral. This he accepted and St. Stephen's church in Bonny became the first Cathedral in Nigeria and the second Cathedral in West Africa. The Church was eventually dedicated by the Bishop on 27th February , 1889. Bishop Crowther's throne which he hallowed on February 27, 1889, remains till this day at the Lady chapel in Stephen's Cathedral Bonny.
On April 27, 1952 Bishop Dimieari from Bonny was enthroned as the inaugural Diocesan Bishop of the Niger Delta Diocese at the St. Stephen's Cathedral in Bonny. Bonny continued to blaze the trail with Rev. Cannon T. T. Green who was ordained a Deacon on December 20th 1953 at the St. Stephen's cathedral Bonny. He graduated with a Bachelors Degree in 1958 from St. John's College, Dunelm, England , to become the first graduate pastor in the Niger Delta Diocese and in fact east of the River Niger in Nigeria.
Before the advent of Christianity the early settlers in Bonny were worshipers of indigenous religions, very little of that remains today as majority of the natives have converted to Christianity.
Monarchy
The Ibani have had kings for a long time. Kings, Amanyanabo (owner of the land) or Amadabo (also applied to a regent or subordinate town or district head), were "crowned by the high priest, Orutingi or Ndende, assisted by minor priests, agbara-na-sonibiena, and the nobles, aseme".
The crown, called anya-nchu, was made out of akpe (raphia) in the shape of a pyramid, owu asara head. They wore royal robes, mbassa and ngu-ikaki; and used a carved wooden throne called imine. Ndoli ruled over the Ibani at Orupiri where he is believed to have died. Little is recorded about him, and the extant royal genealogies show no relationship to any other kings.
Industry
The main industry of the Ibani people (people of Bonny) is Fishing. This remained true till the 20th century. In the 18th and 19th century, Bonny was the center of a powerful trading state, and in the 19th century it became the leading site for slave exportation in W Africa. From 1885 to 1894 it was the administrative center of the British Oil Rivers Protectorate. Bonny declined in the 20th century ,but revived after 1961, when its port was modernized as the export point for petroleum refined at Port Harcourt.
CARNIVALS
Bonny Island-Finima is surrounded on the west and south by long stretches of beaches. The beautiful beaches attract tourists and fun seeking inhabitants alike on sunny days and festive periods like Christmas and Easter. On 26th and 31st December of every year, thousands of people visit the Finima beaches for beach carnivals.
Bonny beach carnival! biggest Beach carnival in the Niger delta holds at Bonny Island.
CULTURE
Today, there are several cultural groups in Bonny, for instance the "Nwaotam" carnival display which is a renowned and colourful display among men and women, young and old of the bonny community. Other cultural groups are also known in the communities which perform at various times in the year usually during the Christmas period.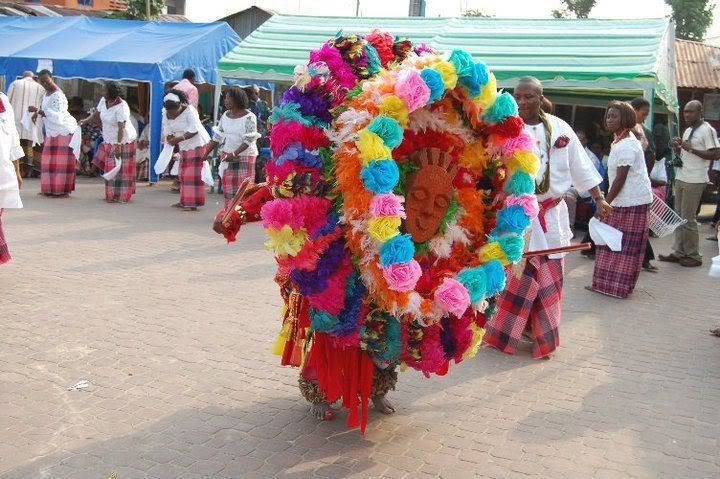 BONNY ISLAND AERIAL-VIEW PICTURES.
BEAUTIFUL PLACES IN BONNY
.
Bonny Nature Park
Bonny Nature Park, being developed by Nigeria LNG is becoming popular for eco-tourism. The park covers the rain forest, mangrove swamps and area of sandy soil with fresh water ponds and tall timbers between the swamp and beach. It harbours some creatures like the pygmy hippo and reptiles including crocodiles, monkeys and some different bird species.
Finima Nature Park is a remarkable achievement on Bonny Island.
-.
It is also a lovely place to go and visit and get a sense of what the Niger Delta was like before, everything. If you'd like to visit.
A BEACH IN BONNY ISLAND
BEAUTIFUL BUILDINGS/HOUSES
SOURCES: wikipedia.org,nairaland.com,grand
bonny
.org,travelingluck.com.
=>Place Your Text/Banner Ads Here And Reach Over 40,000 People In A Week At A Cheap Price
=>Upcoming Artists And Entertainers Get Your Profile And Content Featured On T.I.N Magazine At A Very Cheap Price
SO WHAT DO YOU ACTUALLY THINK ABOUT THIS POST? WHY DON'T YOU SCROLL DOWN BELOW AND LEAVE A COMMENT FOR PEOPLE TO SEE...
=>See How I Can Now Satisfy My Woman Any Time In Actions. Click HERE For Details.
---
DO YOU LIKE THIS ARTICLE? THEN SHARE IT WITH YOUR PALS ON TWITTER AND FACEBOOK! AND KEEP VISITING WWW.TAKEMETONAIJA.COM DAILY FOR MORE CONTENTS LIKE THIS