PROFILE
FULL NAME:
Aisha Halilu
DATE OF BIRTH: February 17, 1971
OCCUPATION: (First Lady Of Nigeria 2015-2019)
MARITAL STATUS: Married
INTRODUCTION
Mrs. Aisha Muhammadu Buhari is the Wife of the President of the Federal Republic of Nigeria, General Muhammadu Buhari, who was elected at the last general election, held on March 28, 2015.
EARLY LIFE AND BACKGROUND
Aisha was born in Adamawa State, Northeastern Nigeria.
Her grandfather, Alhaji Muhammadu Ribadu was Nigeria's first Minister of Defence.
Her father was a civil engineer while her mother is a descendant of the Ankali family, renowned farmers and textile giants. Aisha Buhari went to primary and secondary school in Adamawa, where she lived with siblings, her nieces and nephews.
In February 1989, Aisha married
Muhammadu Buhari, who had five children from a previous Marriage to Safinatu Yusuf. Aisha and Muhammadu Buhari have five children together and one grandchild.
She holds a Bachelor of Arts degree in Public Administration from Ahmadu Bello University(ABU),
[
and a master's degree in International Affairs and Strategic Studies from the Nigerian Defence Academ (NDA), Kaduna.
She is currently undertaking a Counselling Course on Co-Dependency in the United Kingdom. She obtained a Diploma in Beauty Therapy from the Carlton Institute of Beauty Therapy, Windsor, United Kingdom and specialized in Permanent Make-up, Mesotherapy and Miocro-dermabrasion. She holds a post-graduate diploma in cosmetology and beauty from Academy Esthetique Beauty Institute of France
.
She is a member of the United Kingdom Vocational Training and Charitable Trust and the International Health and Beauty Council.
Prior to acquiring her higher degrees, Mrs. Buhari had earlier pursued a career in Beauty and fashion. For years, Mrs. Buhari has run a successful business as the Founder/Managing Director of Hanzy Spa and Principal of Hanzy Beauty Institute, a Beauty salon in Kaduna and Abuja.
She is a Resource Person to the National Basic Technical Education (NBTE)
on Beauty Therapy and Cosmetology and has participated in the curriculum development of Small Medium Enterprises for NBTE. Aisha closed her beauty salon following the emergence of her husband, Buhari as President of Nigeria.
CAREER AND LIFE
Her natural passion for beauty and fashion is overwhelming, and this makes her interestingly unique, as she works, teaches and mentors young ones on beauty and fashion. In her almost fifteen years in the beauty industry, Aisha Muhammadu Buhari has trained, mentored and empowered hundreds of Nigerians in her chosen profession, beauty. She is the Founder/Managing Director of Hanzy Spa and Principal of Hanzy Beauty Institute, Kaduna and Abuja.
She is a Resource Person to National Basic Technical Education (NBTE) on Beauty Therapy and Cosmetology and has participated in the curriculum development of Small Medium Enterprises for NBTE. She is an advocate of Women and Girl-child education having from an area that is educationally disadvantaged for the female gender.
Her life philosophy is: if the environment is safe, if there is no corruption in governance and public life, there would be enough resources in any nation to meet the important needs of the common people including those of women and the youth.
Mrs Buhari is a member of the United Kingdom Vocational Training and Charitable Trust (VTCT), THE International Health and Beauty Council (HBC) .
Besides being an entrepreneur, Aisha Buhari is equally a consummate politician and a fierce devoted wife to General Buhari. A strong believer in the project, Nigeria, Mrs Buhari showed her political sagacity with a successful fund raising dinner for all female candidates of the CPC. She was honored by guests from all over the world and in various fields of endeavor. From New York to Dubai, Sokoto to Lagos and to the Creeks of the Niger Delta, Mrs Buhari pulled off an incredible crowd of successful women both in the public and private sector.
Housewives and home makers were equally present and honored by this woman who spent the early years of her married life as a home maker. Her exhortation to women at this event was change and positive change for Nigeria and for all women.
She assured women that her husband's administration will give priority to womens' health, education. Women will be given opportunities to contribute to the greatness of Nigeria. Never again will women be relegated to the posts of tea servers or treated as part of the home furniture.
A devout Moslem and passionate wife of General Muhammadu Buhari, Her twenty-five years marriage to the former Head of State is blessed with five children and a granddaughter. Her quest for more education took her into the field of Physiotherapy and beauty therapy.
On July 2014, She advised Goodluck Ebele Jonathan to resigned from office as President of Nigeria, following following a suicide bombing and an alleged assassination attempt on her Buhari.
She is a women's right activist and child right Advocate. She is one of the Nigerians who criticized child marriage and homosexuality.
Aisha Buhari is a vocal advocate of women's rights and children rights and this was a focal point during her campaign for her husband's election in 2015. She has, on several occasions, emphasised the need for young girls to get Primary and Secondary school education before getting married, saying that she believes no girl should get married before the age of 17.
In May 2015, on the sidelines of the Global Women Conference held in Buenos Aires, Argentina, she stressed the need for Nigerian laws that will protect the women from forced early marriages, sex trafficking and other issues Nigerian girls and women contend with. She raised concerns on Child sexual abuse in Nigeria, sex trafficking and the need for Legislation against early marriage.
On June 12, 2015 Aisha Buhari met with some mothers of the abducted Chibok Girls, a meeting she had wanted to hold for a long time.
Aisha Muhammadu Buhari has been described by many Nigerians as a classy woman. She surprised Nigerians when she made it known that her role as wife of the President of Nigeria will be limited to whatever is Constitutionally recognised, as she promised not to overstep.
CONTROVERSIES
There have been many rumors about her, she once was said to have taken a $1.8million bribe in
Halliburton bribery scandal.
Aisha speaking to Nigerians 2015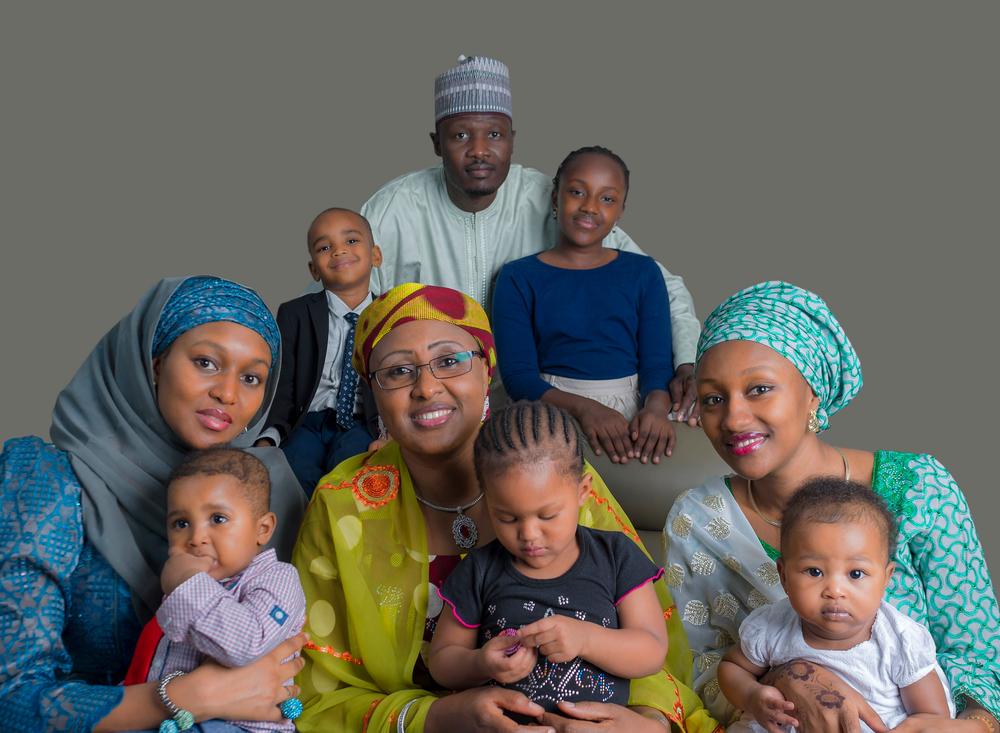 Aisha and family
Aisha Pretty
SOURCES:
dailymail.com.ng, wikipedia.org takemetonaoja.com
=>Give Me Life: Checkout This Dope Pon Pon Song Trending At The Moment, Song OF The Year 2018!
SO WHAT DO YOU ACTUALLY THINK ABOUT THIS POST? WHY DON'T YOU SCROLL DOWN BELOW AND LEAVE A COMMENT FOR PEOPLE TO SEE...
=> See How I Can Now Satisfy My Woman Any Time In Actions. Click HERE For Details.
j
---
DO YOU LIKE THIS ARTICLE? THEN SHARE IT WITH YOUR PALS ON TWITTER AND FACEBOOK! AND KEEP VISITING WWW.TAKEMETONAIJA.COM DAILY FOR MORE CONTENTS LIKE THIS

testin