Hello readers, Inside this post you will find trending important news in Nigeria this morning, you will find news that are of concern to
Politics,Entertainment Economics,Locals and more...
We update this page twice daily; morning and evening. CHECK BACK LATER TODAY FOR EVENING UPDATE...
TOP NEWS IN NIGERIA TODAY(MORNING EDITION)
CHECKOUT OUT TODAY'S TOP NEWS
:
=>
My Fears For Buhari's Change Agenda - Olusegun Obasanjo- Vanguard
*Says gains he made in public service reforms reversed
LAGOS—FORMER president, Chief Olusegun Obasanjo, yesterday, dissected the state of socio-economic affairs of the country, especially the initiatives of the current administration, and returned a verdict of doubt. His words:
"The problem today is that it is doubtful if the current administrative system is imbued with right mix of skills and values to successfully implement a well-articulated programme of change."
He also averred that the country was on its way to another debt burden unless the rising debts were creatively addressed.
Obasanjo, who recalled how he led Nigeria to exit the Paris Club and how he pursued public service reforms, regretted that the gains he made had been reversed.
The former president made the remarks at the conference of Ibadan School of Government and Public Policy, ISGPP, Ibadan, Oyo State.
The former President stressed the need for government to kick out all forms of corruption in the polity, provide jobs for unemployed youths and be committed to change.
READ FULL NEWS....
=>
Buhari To Speak To EU Parliament In France, Source Says He Will Also See Doctors - Sahara reporters
President Muhammadu Buhari is scheduled to depart for France on Wednesday to address a special session of the European Union Parliament in Strasbourg.
by Sahara Reporters, New YorkFeb 01, 2016
President Muhammadu Buhari is scheduled to depart for France on Wednesday to address a special session of the European Union Parliament in Strasbourg.
President Muhammadu Buhari TravelingState House/ Bayo Omoboriowo
A statement on Monday by presidential spokesman Femi Adesina disclosed that he will travel on to London where he will reportedly attend an event on Syria. The trips follow closely on the heels of a just-ended state visit to Kenya, as well as to Ethiopia for a meeting of African leaders.
A SaharaReporters source said that during his visit to the United Kingdom, he will undertake a visit to medical doctors in a London hospital.
Our presidency source said President Buhari agreed to participate in the Syrian event because it provides a perfect cover for the medical visit.
The source further said there has been a debate within the presidency about the medical visit, with some of his handlers arguing that the Syrian meeting provides a perfect alibi as the President should not be seen to be sick less than one year after taking power.
READ FULL NEWS
=>
''Jonathan's Government Bought Substandard Weapons'' - Alhaji Lai Mohammed - Dailytimes
The Federal Government has said whatever weapons that were procured by the Jonathan Administration for the military to prosecute the war against terrorism were substandard and could not have been responsible for the string of successes recorded by the military in recent times.
In a statement issued in Abeokuta on Monday, the Minister of Information and Culture, Alhaji Lai Mohammed, described as unfortunate and unsubstantiated the statement credited to former President Goodluck Jonathan attributing the recent successes in the war to the weapons allegedly bought by his Administration that were delivered after he had left office.
He said the present Administration owes it a duty to put the record straight, especially because the issues raised by the former President are of public interest and borders on national security.
"The weapons, munitions and equipment which the former President said he bought were refurbished and lacked the basic components and spare parts. Additionally, the ammunition bought for both high calibre and small weapons have mostly expired, incompatible with weapons and grossly inadequate.
SOURCE
»
Buhari Received Matteo Renzi, Prime Minister Of Italy At The Presidential Villa Yesterday
President Muhammadu Buhari receives the Prime Minister of Italy, H.E. Matteo Renzi on his Official visit to Nigeria in Statehouse on 1st Feb 2016.
SOURCE
=>
Islamic State enticing Nigerians with $1000 recruitment bonus - Telegraph
The Islamic State is building an "army of the poor" in its new haven in Libya by recruiting foot soldiers from Africa's poorest communities, The Daily Telegraph has reported.
The terror group's Libyan chapter is swelling its ranks by offering cash bounties of up to $1,000 to people from neighbouring countries such as Chad, Mali, Nigeria and Sudan.
Libyan officials admit that they are almost powerless to stop the incomers, many of whom reach Libya using existing people-smuggling routes used by African migrants heading to Europe.
Islamic State is copying a strategy first used by Libya's late dictator, Colonel Gaddafi, who recruited thousands of mercenaries from black Africa to serve in his armies.
In much the same way, the Islamic State's new "Caliphate" in Colonel Gaddafi's home city of Sirte now has a growing number of black African fighters.
Colonel Muncif al Walda, a senior police officer in the nearby city of Misrata, said:
"Illegal immigration is a menace because it brings and encourages foreign fighters to come and fight with Isil.
READ FULL NEWS....
=>
EkitiGate Scandal: Tope Aluko cries out - 'My life is in danger for exposing Ekiti election rigging'- Nigerianeye
Dr. Temitope Aluko, the embattled secretary of the Ekiti state chapter of the Peoples Democratic Party who blew the whistle on the alleged rigging of the 2014 governorship election in Ekiti State yesterday alleged that his life was under threat.
NigerianEye
recalls that Aluko on Sunday was on air on 'Politics Today' a programme on Channels Televison on Sunday, where he gave a breakdown of how the 2014 Ekiti governorship election was rigged in favour of the PDP governorship candidate, now Governor, Ayodele Fayose.
Dr. Temitope Aluko, who on Sunday spoke of how former President Goodluck Jonathan allegedly gave Governor Ayo Fayose $37 million to prosecute the election and directed that the military should facilitate victory for the then PDP candidate, said he escaped from the hands of "fake security men" on Sunday night.
He also indicted many politicians and military chiefs.
But Fayose described him as desperate and denied the allegations.
Also yesterday, All Progressives Congress (APC) urged the government to prosecute all the people indicted by the ex-PDP chief.
A human rights lawyer, Morakinyo Ogele also called on the Economic and Financial Crimes Commission (EFCC) to probe the $37m allegedly given to Fayose by Jonathan.
Aluko said yesterday: "After the live television interview on Politics Today on Channels Television on Sunday at about 9.30 pm, my attention was drawn to the presence of some operatives supposedly from the office of the Inspector General of Police (IGP), seeking to effect my arrest.
READ FULL NEWS
=>
Zika virus: We're conducting tests on mosquitoes —FG
-Vanguard
As part of preventive measures against possible outbreak of Zika virus, the Federal Government says it has put measures in place to ensure that the virus is not transmitted by mosquitoes in the country.
This is coming as the Director General of the World Health Organisation, WHO, Dr. Margaret Chan is convening an International Health Regulations Emergency Committee on Zika virus today in Geneva, Switzerland, to ascertain whether the Zika virus outbreak constitutes a public health emergency of international concern.
Meanwhile, German researchers say they have developed a diagnostic test that can accurately detect the Zika virus in humans. Previously, there was no way to diagnose the illness apart from appearance of the distinctive symptoms.
In a telephone chat with
Vanguard,
the Director-General of the Nigerian Centre for Disease Control, NCDC, Prof Abdulsalam Nasiru, said already the Federal Government has put in place mechanisms to stop the Zika virus from entering the country.
READ FULL NEWS....
=>
Andy Uba, Oduah resume work in Senate despite court judgement
-
Nigerianeye
The two remaining embattled senators from Anambra State, Senators Andy Uba and Stella Oduah yesterday made a bold appearance in the National Assembly to disprove assertions of their removal from office.
The two senators who were reported by some media channels to have been removed from office on account of the judicial affirmation of the Ejike Oguebego faction of the Peoples Democratic Party, PDP, also attended their committees' meetings unhindered.
Their action nonetheless, lawyer to the Oguebego faction, Chris Uche, SAN yesterday, wrote the Independent National Electoral Commission, INEC, asking the body to withdraw the certificates of return issued to Andy Uba and Oduah. Uche in the letter sighted by Vanguard also asked the commission to issue certificates of return to the nominees presented by the Oguebego faction.
Senator Uba, PDP Anambra South attended the meeting of the Senate Joint Committees on Banking, Insurance and other Financial Institutions yesterday while Oduah, PDP, Anambra North was in her office attending to visitors and files on her table.
Their presence at the National Assembly caught the attention of staff and visitors, following news reports at the weekend of their sack from office on account of the Supreme Court judgment on the supremacy battle between the contending factions of the PDP in Anambra State.
READ FULL NEWS....
=>
Adeosun explains Nigeria's borrowing plans to fund capital projects - TheNation
The Minister of Finance, Mrs. Kemi Adeosun, Monday revealed government's strategy for foreign loans that will be used to fund the 2016 budget.
According to a statement from the ministry issued by the Special Adviser to the Minister on Media Matters, Mr. Festus Akanbi, Mrs Adeosun disclosed that one of the options the federal government will explore will be to get credit from multi-lateral agencies like the World Bank and African Development Bank (AfDB).
"These Multilateral agencies provide loans on concessional terms, which include low interest, moratorium before repayment and long tenor."
"The second funding option being explored includes Export Credit Agencies such as China Exim Bank. These funds are also concessional and are tied to specific capital projects," the statement said.
The balance of foreign borrowing required will be raised in the Eurobond market at commercial rates of interest.
The Minister explained that by blending these different sources of funding, the overall cost of funds will be maintained at the lowest possible level, stating that "as far as possible, our foreign borrowing will be tied to specific capital projects. A number of these projects are revenue generating which will be used to fund the loan repayments."
READ FULL NEWS....
ENTERTAINMENT
=> Comedian Bovi Speaks On His Mother's Death, Shares Her Photo
Bovi is finally speaking on the passing away of his beloved mother, Dr. Margaret Ugboma. In a Thank You message posted on his Instagram page, few hours ago, the comedian said he spoke with her on the phone one hour before she gave up the ghost. Adding that he is happy to have spent her last days with her. Read his full statement after the cut....
Dr. Margaret passed on a few days ago at age 58. She survived by five children and several grand children....
"THANK YOU! I wanna use this opportunity to say thank you to everyone who reached out to me and my family on the sudden passing of my gift, my rock, my backbone, my pride, my teacher; my dear mother! I had the the divine opportunity of spending her very last days with her. And I spoke to her on the phone barely an hour before she left for glory. Please don't mourn with me anymore. Celebrate her life. Though she was only 58, She left us all with so much that all I need to do is pause and listen and her voice hits me with what to and what not to do. I may not see her again physically. But she lives in me now. And those vices I hid from her as a human being, I can't do anymore because as a saint, she sees and knows all. Rest in peace to my beautiful mother, Dr. Margaret Ugboma. Me, Zino, Tano, Tome and Jiji will always love you. Once again, thanks to all of you. Your messages made us strong. Time to wash, pray and eat. Bless!!!!"
SOURCE
=>
Fani-Kayode And Precious Chikwendu Welcome Baby Boy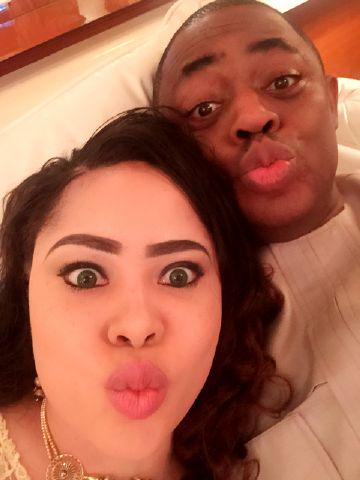 Former Aviation Minister, Femi Fani-Kayode and his beauty queen girlfriend, Precious Chikwendu, have welcomed their first child together.
The proud father took to social media to announce the birth of his first son
FFK, as he is popularly known has four daughters from previous marriages, so this baby boy with Precious is his first son. We can just imagine his excitement.
We will bring you pictures once we get them
SOURCE
=>
Ruth Eze: 'I Will Become A Lesbian If Genevieve Asks Me Out'
"The Money" crooner Davido,just posted a tweet about giving out 2 whooping million naira to his most loyal fan.
SINCE Ruth Eze came into the movie industry a few years ago, her profile has always been on the rise, and today she's one of the actresses to reckon with.
However, reacting to the rise of homosexuals in Nollywood, the University of Benin graduate and Imo State-born role interpreter said that she would never be pushed to be a part of such immoralities.
But when pushed further, Eze confessed that her burning, lustful passion for sultry actress, Genevieve Nnaji, could make her have a re-think.
Hear her:
"Only Genevieve Nnaji can make me throw caution to the wind and become a lesbian, but fortunately she is not. I am obsessed with Genevieve. She makes me wet! If she tells me to become her partner today, I'll apologise to God and jump at the offer.
"Anyway, I'm not a lesbian but I am not against them. If they believe they can stand the consequences (of their actions), then they can do whatever they like with their bodies. I have good boobs that both men and women admire and can't seem to take their eyes off me. My fellow ladies always harass me, to get intimate with them, but I haven't tried such."
READ FULL NEWS
=>
I don't need 'bum bum' because the one I have is enough – Fathia Balogun - Naij.com
Top Nollywood actress, Fathia William popularly called Fathia Balogun, has opened up on the reasons she cannot open her body indiscriminately.
In this interview with Naij.com, the beautiful screen diva also explained why she wears tatoo, why she shaved her hair and decided to wear a new look.
Do you use waist trainer?
No I don't because it is so uncomfortable, I used it once and that was the end. I like to be very free when I am dressed up. The waist trainer is working for ladies but I cannot use it.
What of bum bum pad?
Why should I wear bum bum when the one I have is enough, I do not need it but if anybody wants to wear is it a free world.
READ FULL INTERVIEW
=> Comedian Bovi Shares Hilarious Meme Of Toolz & Her Husband Tunde (Photo)
Popular Comedian, Bovi definitely loves to find humor in everything. The comic performer took to his Instagram to share a meme of Toolz and her husband, Tunde Demuren who got married over the weekend.
Bovi was among the list of top celebrities who didn't make it to the wedding as indicated by his post.
Bovi shared the Meme with the caption:
#whileiwasaway @toolzo and @captdemuren tied d knot (village wise). And this pic captures every mans bride price mood
These Updates Is Brought To You By Apata Bayode Follow Him On Twitter Here
=>Give Me Life: Checkout This Dope Pon Pon Song Trending At The Moment, Song OF The Year 2018!
SO WHAT DO YOU ACTUALLY THINK ABOUT THIS POST? WHY DON'T YOU SCROLL DOWN BELOW AND LEAVE A COMMENT FOR PEOPLE TO SEE...
=> See How I Can Now Satisfy My Woman Any Time In Actions. Click HERE For Details.
j
---
DO YOU LIKE THIS ARTICLE? THEN SHARE IT WITH YOUR PALS ON TWITTER AND FACEBOOK! AND KEEP VISITING WWW.TAKEMETONAIJA.COM DAILY FOR MORE CONTENTS LIKE THIS

testin